The Myers Family has been involved in property management and commercial real estate in Springfield since 1886. Myers Commercial Real Estate, Inc. was founded in 1998 by Steve Myers to provide a full range of commercial real estate services to the Central Illinois region. Our company provides the finest in full service commercial real estate property management, leasing and brokerage services.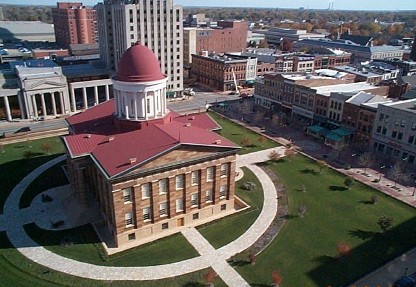 Educational Background
Springfield School District 186 (1967-1980)
University of Missouri (1980-1984) Political Science
Professional Designations

Illinois Licensed Salesperson (1990-1992)
Illinois Licensed Real Estate Broker (1992-2012)
Illinois Licensed Real Estate Managing Broker (2012-Present)
Employment History

CentreFirst Management Corp. (1985-1990)
Property management and leasing of multi-family communities and commercial office property in North Texas. Duties included budgeting, tenant relations, maintenance oversight, leasing, etc. for communities as large as 350 units and commercial property in excess of 100,000 square feet.
Edelberg, Shiffman and Myers, Inc. (1990-1998)
Property management for fee managed commercial and residential property. Duties included budgeting, tenant relations, maintenance oversight, leasing and brokerage. The portfolio for ESM included eleven properties in the central Illinois area. During my tenure at ESM, the company realized tremendous growth in income related to management fees and leasing and sales commissions. The client base was expanded to include all of the closely-held commercial Trust property that previously was managed by the city real estate department at Bank One.
Myers Commercial Real Estate, Inc. (1998-Present)
Sole ownership of a sub-chapter "S" Licensed Real Estate Brokerage Corporation. Upon departure from ESM, all owners of fee-managed properties I previously managed for ESM except one 30,000 square foot building contacted me to continue management. The current portfolio includes all of the JP Morgan/Chase closely-held trust property as well as other privately held properties; including the Land of Lincoln Building (Illinois State Comptroller) and the Myers Building. Responsibilities include monthly, quarterly and annual management and accounting reporting in addition to tenant relations, maintenance oversight, leasing and brokerage.
COMMITMENT TO THE COMMUNITY
Steve Myers has devoted a great deal of his spare time giving back to the communities throughout Central Illinois.
Downtown Springfield, Inc.
2001-Present National Trust For Historic Preservation Sustaining Member
2005-Present Board of Directors and Board of Trustees
2004-Immediate Past President/Chairman-Business Retention and Expansion
2002-2003 President
1998-2002 Vice-President
1994-Present Parking, Traffic and Safety Council
Downtown Parking, Inc.
2001-Present Board of Directors
2001-Present Chair of the Operations Committee
2008-Present Vice-President
Capital Area Association of Realtors
1992-1995 Community Involvement Committee
1998 and 2007 Vice Chairman Governmental Affairs Committee
1999, 2001 and 2008 Chairman of the Governmental Affairs Committee
1999-Present (2007, 2016 Chairman) Commercial Real Estate Network
2011-2012 Board Secretary/Treasurer
2012-2013 President-Elect
2013-2014 President
SPARC Endowment Board
1998 Fulfilled the unexpired term of Board member Bill Bruce
ADA Celebration Steering Committee
2001-Present Steering Committee
First United Methodist Church
2000-2002 Finance Committee
Fancy Creek Cemetery Association
2000-Present Secretary of the Board of Directors
Crime Stoppers of Sangamon/Menard Counties
1994-Present Board Member
Chairman of the Advisory Committee on Law Enforcement
2007-President
Abraham Lincoln Council Boy Scouts of America
1990-1996 Unit Commissioner
1997-1998 Assistant District Commissioner
2001-2006 Council Executive Board
2004-2005 Endowment Chairman
Greater Springfield Chamber of Commerce
2002 Board of Directors (served in the interim between Executive Director's for DSI)
2014 Member of the Strategic Leadership Council
City of Springfield

2001-2002 Regional/Urban Design Assistance Team Steering Committee
2001 "Vista" Alternatives Contractor Selection Committee
2002 Jury Member for Capitol Avenue Rehabilitation Project
2012-Present Member of the S/DAT Action Committee
2014-Present Member of the North Mansion Block Committee
Mid-Illinois Medical District Commission
Neighborhood Advisory Council representing Downtown Springfield, Inc.
Committee Member for the MIMD Master Plan
Illinois Route 66 Events, Inc.
2002-Present Board of Directors
Springfield Urban League
2003-2008 Board of Directors
2004-2008 Public Relations Committee Chairman
2003-2008 Head Start Policy Council
Security Bank, s.b.
2003-Present Board of Directors
Springfield Art Association
2004-Present Board of Directors
2009-First Vice President
2010-President
2011-Immediate Past President
Springfield Historic Sites Commission
2004-2016 Board of Directors
2004-2016 Design Review Committee for Façade Rehabilitation
2014-Vice-Chairman
Professional Memberships
1991-Present National Association of Realtors
2000-Present Realtors Commercial Alliance
1991-Present Illinois Association of Realtors
1991-Present Capital Area Association of Realtors
2003-Present Commercial Real Estate Network
Community and Club Memberships
Island Bay Yacht Club